Mission Possible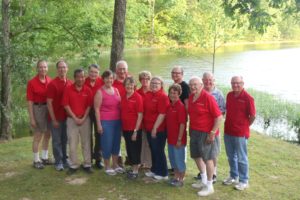 Mission Possible adult work trip to Camp Carew at Makanda, IL.
History of Mission Possible
Founded in 1992, Mission Possible is a mission group consisting of 25-30 members at First Presbyterian. Mission Possible's mission is to support and improve unique Christian educational opportunities for spiritual learning and growth in a natural setting for future leaders of our community. In addition, Mission Possible provides volunteer work opportunities and fellowship for its participants.
Each year a group of dedicated volunteers make an annual trip to a Presbyterian youth summer camp for the purpose of maintenance and construction at the camp. Volunteers work 4 ½ days during the weeklong annua
l trip.
ANNUAL WORK TRIPS
1992 – Sheldon Jackson College, Alaska
1993 – Camp Greenwood, Michigan
1994 – Clearwater Forest, Minnesota
1995 – Presbyterian Center, New York
1996 – Chesapeake Center, Maryland
1998 – Camp Westminster, Michigan
1999 – Cedar Ridge Camp, Kentucky
2000 – Mound Ridge Camp, Missouri
2001 – Camp Pyoca, Indiana
2002 – Camp Saugatuck, Michigan
2003 – Geneva Center, Indiana
2004 – Makemie Woods, Virginia
2005 – Camp Wyoming, Iowa
2006 – Bluestone Camp, West Virginia
2007 – Kirkmont Center, Ohio
2008 – Ferncliff Camp, Arkansas
2009 – Cresfield Camp, Pennsylvania
2010 – Camp Okobji, Iowa
2011 – Skyline Camp, Michigan
2012 – Camp Presmont, Ohio
2013 – Camp Carew, Illinois
2014 – Calvin Crest Camp, Nebraska
2015 – Pinecrest Camp, Tennessee
2016 – Camp Wyoming, Iowa
2017 – Camp Carew, Illinois
2018 – Kemmerer Village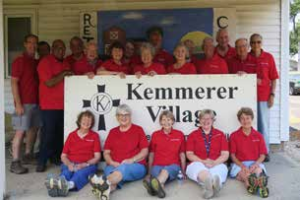 LOCAL WORK PROJECTS
Jesus is the Way
Prison Ministries
Courage Connection
Angel Tree
Rocking Horses
Habitat for Humanity
empty tomb
Round House
Camp Carew, Carbondale, IL
JOBS PERFORMED:
Build cabins and small buildings
Build platform sleeping quarters
Install windows and doors
Roofing
Apply siding
Plumbing and electrical
Flooring
Drywall hanging and finishing
Finish carpentry
Painting
Build bunk beds
Build fences and landscaping
Signage Sewing
Find out more about: