Matt Matthews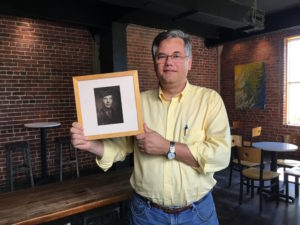 Senior Pastor
I was born and raised in the sight of water in Hampton, Virginia. I was baptized and nurtured in the Presbyterian church. There was never a time when weekly worship attendance, the giving of tithes and offerings, and fellowship with church friends and neighbors was not a part of my routine. I grew up hearing words like "stewardship" at least once each fall, John Calvin felt like a distant cousin, and the word "grace" was like grits at Shoney's: it came with breakfast whether you ordered it or not. I learned early that the church was filled with imperfect people, crusty saints, sinners like me. I felt right at home.
My older sisters had married and moved away by the time I was in first grade, so I was raised almost like an "only child" by a mom and a dad who tried to live their creed of respecting and loving others in God's name. Dad was of the silent generation and he would rather have had fixed your plumbing or weeded your garden than talk about his faith. But he had it, evidenced in small ways such as the dinner prayer he prayed at every one of mom's servings of homemade slow food. While I secretly pride myself in being able to mix my prayers up as an adult, I can hardly utter my late father's prayer without weeping. It has become written in my heart.
Among my earliest formal lessons in theology were those gotten standing on my side of the coveted ping pong table in our church fellowship hall. Rev. Andrews stood on the other side and let me ramble and ask questions and try out concepts such as predestination and topspin. He hit everything back.
I studied journalism at Virginia Commonwealth University, then went to Union Seminary in Richmond. I was the studio manager of a Presbyterian church's small radio station during those years, played volleyball in the field behind Lingle Hall, studied Rheinhold Neibuhr with fear and trembling under John Leith, and met a marvelous woman from Texas named Rachel.
I followed Rachel to her first call in Arkansas a year after she let me marry her. I took a call at First Presbyterian Church across the Arkansas River in Dardanelle, in the shadow of Dardanelle Rock and at the foot of steep Mount Nebo. We watched movies, lead youth trips, supported the presbytery camp, and were nurtured by wonderful saints in the River Valley.
Joseph was born before we left Arkansas, and, after accepting a call to Simonsdale Presbyterian Church in Portsmouth, Virginia, Benjamin and John Mark came along. God has blessed us by entrusting these charming boys (all adults, two still in college) to our care. They are a mystery and delight. For almost 14 years I was pastor of St. Giles Presbyterian Church, Greenville, SC.
My wife Rachel, a pastoral counselor, Christian education consultant, frequent workshop leader, and PCUSA preacher, is a Fellow in the American Association of Pastoral Counselors and owns A Sacred Space Pastoral Counseling and Consultation, LLC. In Greenville, SC, she directed the counseling center at Disciples United Methodist Church in Greenville and did play therapy in a hospital setting.
I enjoy writing, keeping up with my boys, catching live jazz and acoustic music, dinner dates, and arty movies with Rachel, and inventing chords on my six string. Mercy Creek, my first novel and winner of the South Carolina Arts Commission First Novel Prize, was published in the May 2011 by the award-winning Hub City Press; it copped a bronze medal in the Independent Bookseller Award ("Ippy") in the south east region, and an honorable mention in the fiction category in the Library of Virginia annual literary awards. Fritz and Christine and Their Very Nervous Parents, a children's story about 'vocation' and illustrated by Adrienne Davis, was published in the fall of 2010 by Avenida Books. Several of my essays have appeared in Feasting on the Word: Preaching the Revised Common Lectionary and other professional journals. I have stalled in the writing of my third play, and have recorded four CD's of original songs. Rise and Quite A View are available online. One Thousand Miles: Following My Father's WWII Footsteps was published in May 2017.
I've worked at a pickle plant, boatyard, in the Bill Room at the Virginia State Capitol, as a chaplain in a hospital and Boy Scout Camp (the old Camp Chickahominy), and as an occasional newspaper columnist. I've served on boards of a nursing home, campus ministry groups (at Furman and Old Dominion universities), helped found "The Jeremiah Project" in Portsmouth, and studied Family Systems Theory at the Peninsula Pastoral Counseling Center with Daniel Jungkuntz and Peter Steinke. I am a graduate of the Riley Institute Diversity Leadership Initiative of Furman University. I've planned national family and youth conferences for the Presbyterian Church (USA).
I came to First Presbyterian Church in February 2018.
I occasionally update a webpage at www.MattMatthewsCreative.com, have given up on writing a blog, and will never bungee jump.