Kristi Corbin
Kristi Corbin, Missions Coordinator
kristi@firstpres.church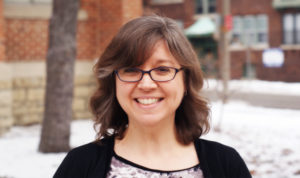 Originally from "the South," Kristi and her husband, Eric, followed God's call to "the North" in 2013 and began as a staff member in January of 2015. Active in volunteer work since high school, Kristi also has a social sciences background that has prepared her for the calling of Mission Coordinator. Her resume includes professional experiences as a research assistant, school psychologist, and associate professor of psychology. She has over six years' experience managing volunteers and service projects for local, national and international causes. She also co-created and co-directed the Bethel University Community Engagement Scholarship Program, which gives scholarships to students for continued service in the local community.
Kristi's husband, Eric, is an ordained Presbyterian minister who began serving First Presbyterian as Associate Pastor and Technology Coordinator in the summer of 2015. They have three young children who keep them busy and whose resilience and spirit are a joy to behold.
Kristi is continually amazed and thankful for God's movement in her life and is thankful for God's calling to this position. She loves working in missions as it brings her in contact with so many amazing people working together to respond to God's love for them by showing God's love to the world.