Eric Corbin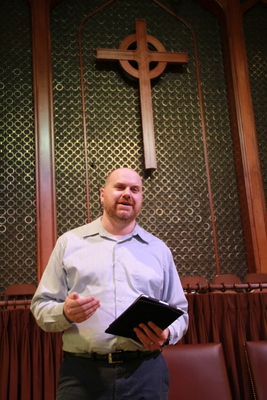 Associate Pastor and Technology Coordinator
,
Eric brings a unique combination of pastoral and technological experience to First Presbyterian. His undergraduate degree is in Computer Engineering Technology, and he has worked in various positions in technology for nearly fifteen years. His experiences include website development and maintenance, software coding, computer software support, server maintenance, network infrastructure, and user training. The majority of his technological experience is in academic environments, ranging from a graduate school with around 350 students to a university with over 40,000 students. He has also worked in corporate environments, from under 10 employees to a Fortune 500 company. His most recent appointment prior to First Presbyterian Church was at the University of Illinois as the Web Programmer for the Illini Union.
Eric grew up in the Cumberland Presbyterian, and was ordained there. He recently completed the process of transferring his ordination to the PC(USA). He is the grandson, son, and cousin of ordained ministers. Eric has been active in the church for his whole life. His service to the church began with playing the piano for worship services as a youth. As Eric grew, his leadership in the denomination did as well. In the years leading up to entering the pastorate in 2006, he served in a variety of roles including Campus Ministry Leader, Youth Conference Leader, and Workshop Leader. After entering pastoral ministry, he served a small but active congregation for nearly seven years. His appointment at that congregation allowed him to develop skills for ministry across all areas of the church, especially in leading worship and preaching, outreach, pastoral care, and leadership.
Eric received his Bachelor of Science degree in Computer Engineering Technology from The University of Memphis in 1997 and his Master of Divinity degree from Memphis Theological Seminary in 2010. Both degrees were conferred with honors.
Eric feels honored to be Associate Pastor and Technology Coordinator at First Pres. He is grateful to be able to join his wife on staff (Kristi has been the Missions Coordinator since January of 2015). Eric and Kristi have three lively children who are active parts of First Presbyterian's children's ministry.