Compassion, Peace, and Justice (CPJ)
Compassion, Peace and Justice Ministry Team Tracy Dace, Moderator Statement of Faith and Purpose "The Presbyterian Church commitment to justice is core to its identity and understanding as followers of Jesus Christ. Beginning with the ancient texts of the faith, God's people have given both voice and witness to the prophet Micah's calling to do justice, love kindness and walk humbly with God. The Confessions of the church, especially the Confession of 1967 and A Brief Statement of Faith, challenge the church to follow Christ into a broken and fearful world:
to pray without ceasing,

to witness among all peoples

to unmask idolatries in church and culture,

to hear the voices of peoples long silenced,

and to work with others for justice, freedom and peace.
–A Brief Statement of Faith 10.4
The Book of Order also makes it clear that "the whole church gathers in worship and its corporate life for the purpose of being sent out into the world to engage in the reconciling, healing work of God through Jesus Christ. God sends the church in the power of the Holy Spirit to share with Christ in establishing God's just, peaceable and loving rule in the world". (W-7.4000) The Compassion Peace and Justice Ministry Team (CPJMT) works with the leadership of the denomination in The Presbyterian Mission Agency's Compassion Peace and Justice Ministry and General Assembly Office of Immigration Issues. Our objectives are to educate our congregation and community and then to support action when we believe we are called to act and when we can make a practical difference.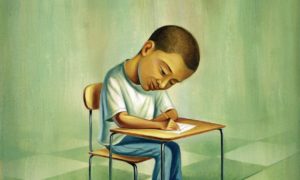 Our focus is on the School to Prison Pipeline and on just compassionate immigration reform. We meet on the first and third Thursdays of each month from 11:00 to 12:30. You are welcome to join us.